Happy New Year from the Sustainability Academy!
Welcome 2019 by trying a new offering from the County's Sustainability Academy. We have many upcoming opportunities for you to learn new skills and connect with your community.
Sustainability Academy Offerings
Master Resource Conservation Course

Applications due February 15th
Dates: Thursday evenings 6:00pm – 9:00pm during February 21, 2019 – April 18, 2019
Location: Room 101, 455 County Center, Redwood City
Course description: The Sustainability Academy's Master Resource Conservation Course is a no-cost 9-week course. This year, the course will use a study of the food system to look in-depth at the following topics:
Climate change and sea level rise
Energy and water efficiency and conservation
Solid waste management
Transportation
Communication strategies and instructional skills you can use to teach others about sustainability.
The course will be led by Laura McKaughan with Envirolutions Consulting with guest speakers, Jessica Coe with Cascadia and other experts in the industry.
We require that you volunteer 40 hours of your time in the year after you complete the course. We can help you brainstorm a fun and fulfilling project!Please submit your application HERE. Applications are due by February 15th. Space is limited!
For more details please visit the Academy website.
Fixit Clinic in East Palo Alto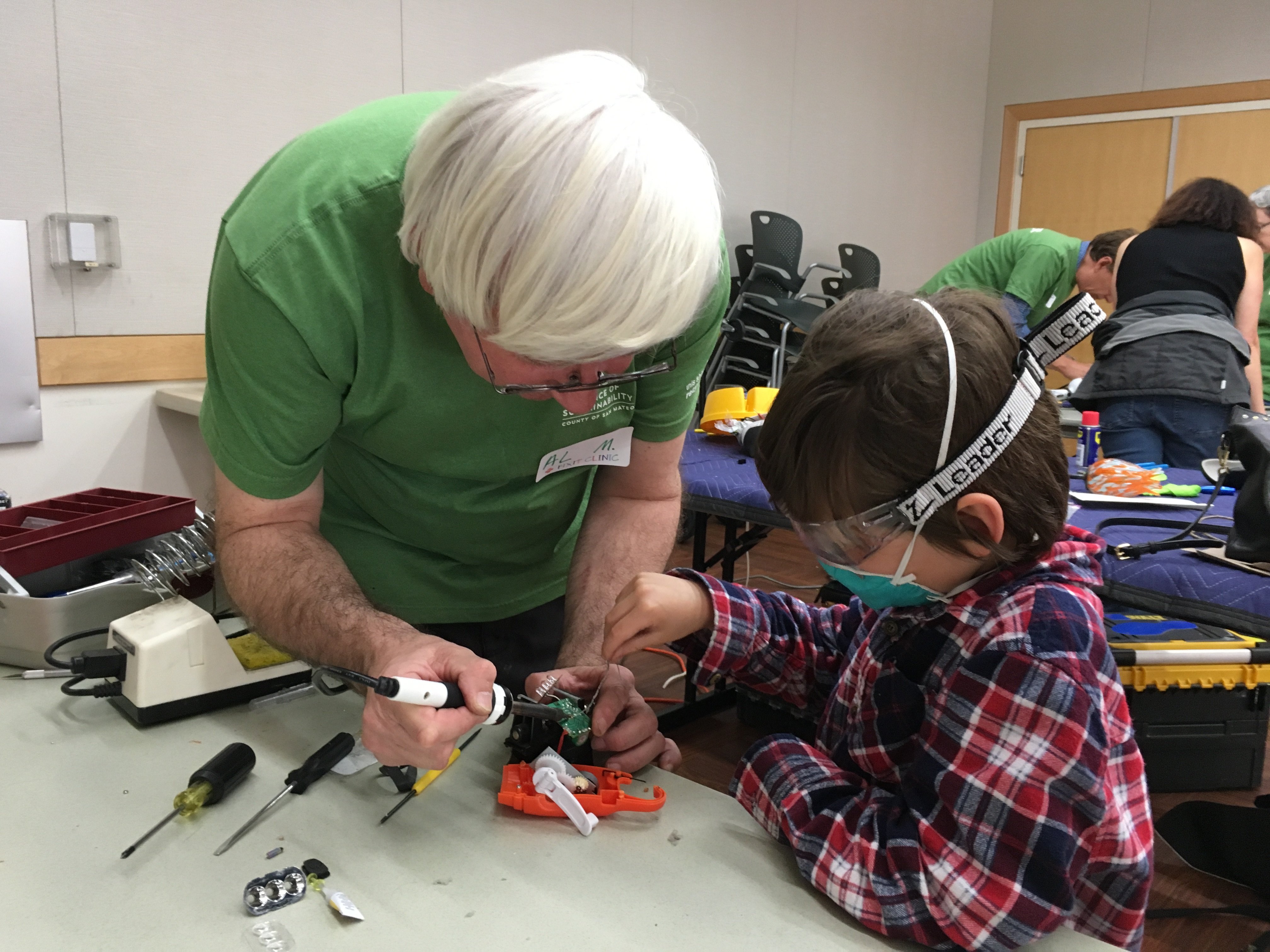 Fixit Clinics are fun community-based workshops where neighbors, friends, and families work collectively to learn how to repair broken items. In partnership with the Ecumenical Hunger Program, we'll provide a workspace, specialty tools, and volunteer Fixit Coaches to help you troubleshoot and provide routine maintenance to your household items and appliances!

Date: Saturday, February 2nd, 2019
Time: 1:00 pm – 4:00 pm
Venue: East Palo Alto Public Library
Register
Interested in being a Fixit Coach? It's easy! Provide participants with 1) guidance on tools and 2) encouragement to investigate their broken item. Let them talk about how they used it and how it broke. That often provides valuable hints as to what's wrong. See how much you can do without actually handling the item. Empower the item's owner to do the troubleshooting and disassembly. Register to be a Fixit Coach.
Home Compost Workshops 
Learn how easy and fun it is to recycle your fruit and vegetable scraps, leaves, and plant cuttings into compost in this no-cost workshop! These FREE workshops teach composting options suitable for those with or without a backyard. Apartment dwellers welcome! Compost provides valuable nutrients and improves soil quality for your houseplants, garden, or outdoor potted plants. It is rewarding to know that you are turning what some consider waste into precious organic material for your garden.Date:  Saturday, March 30, 2019
Time: 2:30 – 4:30 pm
Venue: San Carlos Public Library, 610 Elm Street
Register 
Date:  Saturday, April 27, 2019
Time: 10:00 am – 12:00 pm
Venue: South City Scavengers, 500 E Jamie Ct, South San Francisco
Register 
For more information, visit: www.smcsustainability.org/academy
Community Events and Announcements
Office of Sustainability 4R's Grants Program – Applications open January 7th, 2019
Grant funding ($1,000-$25,000) is now available through the County of San Mateo Office of Sustainability's 4Rs (Reduce, Reuse, Recycle, Rot – Compost) Grants Program.  The 4R's Grants Program offers two tiers of funding:
(1) the Mega Grant (up to $25,000) and
(2) the Mini Grants ($1,000 to $5,000).
Grants will help eligible entities (nonprofits, educational institutions, or government agencies) create, implement, and expand programs that promote reuse, waste reduction, recycling, composting or education about these topics in San Mateo County.
The application deadline is Monday, February 4, 2019 @ 6pm. To apply and find more information, please visit: https://www.smcsustainability.org/waste-reduction/reduce-reuse-recycle/#Grant
FREE Electronics Reuse & Recycling Drop-Off Event
Date: Saturday, January 26, 2019
Time: 9:00am – 12:00pm
Venue: Caltrain Parking Lot O, 1090 Burligame Ave, Burlingame
Kick start your new year by clearing out clutter. Drop off your used electronics at the Office of Sustainability's FREE electronics reuse and recycling drop-off event for San Mateo County residents.
Residents must provide proof of residency in San Mateo County (e.g., driver's license, utility bill, garbage collection bill, etc.). For additional information, please visit: https://bit.ly/2EvmlSb
Academy Compost Troubleshooting Meetup
Date: Tuesday, January 29, 2019
Time: 5:30pm – 8:30pm (drop in anytime!)
Venue: 455 County Center, 4th Floor, Room 402The 2018 Master Composter class is going to meet in January for a "reunion" and "troubleshooting" session.
Even if you're not having trouble with your compost bin, feel free to come to ask questions, meet our new Master Composters, connect over a project idea, or just share your experiences with composting.
For more details contact Avana Andrade at aandrade@smcgov.org.
Sustainability Academy Volunteer Social 
Date: Wednesday, January 30, 2019
Time: 5:30pm – 7:30pm
Venue: Wursthall in San Mateo
Mark your calendars for the upcoming Sustainability Academy volunteer social! Join Academy volunteers for an evening of celebrating the new year, connecting with new volunteers, and catching up with peers!
Complimentary snacks will be provided. Beverages will not be provided but you are welcome to purchase your own!
RSVP to Jackie Nunez at janunez@smcgov.org by January 25th!
Save the Date: FREE Film Screening hosted by
San Mateo Chapter of Citizens Climate Lobby
Attend a free screening of the documentary film "Happening: A Clean Energy Revolution" hosted by the 
San Mateo Chapter of Citizens' Climate Lobby
 .Monday, February 4, 2019
Doors open at 6 pm, and the program will run from 6:30 – 8:30 pm.
San Mateo Library (55 W 3rd Ave, San Mateo).For more information contact:
Marty Jordan (majordan421@outlook.com)
Do you wish your community was more sustainable? Do you wish you could do something about climate change? You can make a real impact curbing climate change while also supporting small businesses within your community by becoming a San Mateo County Green Business Program volunteer.
Please join us at our Green Business 101 Overview & Volunteer Training to learn how the San Mateo County Green Business Program helps businesses reduce their environmental/climate impact, save money, and conserve resources.
Interested volunteers will learn to:
Develop a strategy for approaching businesses about sustainability in their community;
Learn how to invite small businesses to participate in the Green Business Program; and
Meet others who care about sustainability, their communities, and the success of locally-owned small businesses.
Varying levels of volunteer commitment is needed so ALL ARE WELCOME! Complimentary refreshments will be served.
Event Details:
Tue, January 15, 2019, 5:30 PM – 8:00 PM
455 County Center, 4th Floor, Redwood City
Please RSVP or register via email, Shawn Orgel-Olson, sorgelolson@environmentalin.com by January 11th.
Sunwork Solar Volunteer Training 
Date: Saturday, January 19, 2019
Time: 9:00am – 12:00pm
Venue: Burlingame Main Library, Lane Room
Participate in a training with non-profit Sunwork covering the basics of solar, electricity, and construction. Afterwards, you are eligible to volunteer for solar installations, working together with SunWork's staff, attaching racking, running conduit, hanging inverters, and mounting the solar panels on homes. Register
Sustainability Academy Highlights
Sustainability Academy coordinator, Avana Andrade, reflects on the 2018 Master Composter Course.

"We had our last Master Composter Class in December and I wanted to share photos from the duration of the course. This class was so curious! They had so many questions, which I think the instructor, Joe, really appreciated. I was impressed by how folks just jumped right in to whatever we were d
oing. Tyler and Kyra were ever the goofballs, making faces in almost every picture I took of them! Our field trip to the Newby Island in Milpitas was quite eye-opening to the opportunity and limits of composting at a mass scale." -Avana
Stay tuned for the following Sustainability Academy workshops, courses, and topics for 2019:
Home composting series
Fixit Clinics
Food preservation
Herb gardening (back by popular demand!)
Creative repurposing
Sewing and cloth upcycling
Container gardening
GOT IDEAS?! Share 'em! Email Avana Andrade with ideas for courses and workshops you would like the Sustainability Academy offer in 2019.
Visit the Sustainability Academy website for upcoming offerings.
We're on Facebook!
 Join the Academy
Facebook Group
to stay updated about community events and learn about sustainability in your community.
Copyright © 2019 County of San Mateo Office of Sustainability, All rights reserved.
You have expressed interest in the Office of Sustainability by participating in a Sustainability Academy course, workshop, event, or webinar.Our mailing address is:

County of San Mateo Office of Sustainability

455 County Center, 4th Fl

Redwood City, CA 94063

Want to change how you receive these emails?
You can update your preferences or unsubscribe from this list.